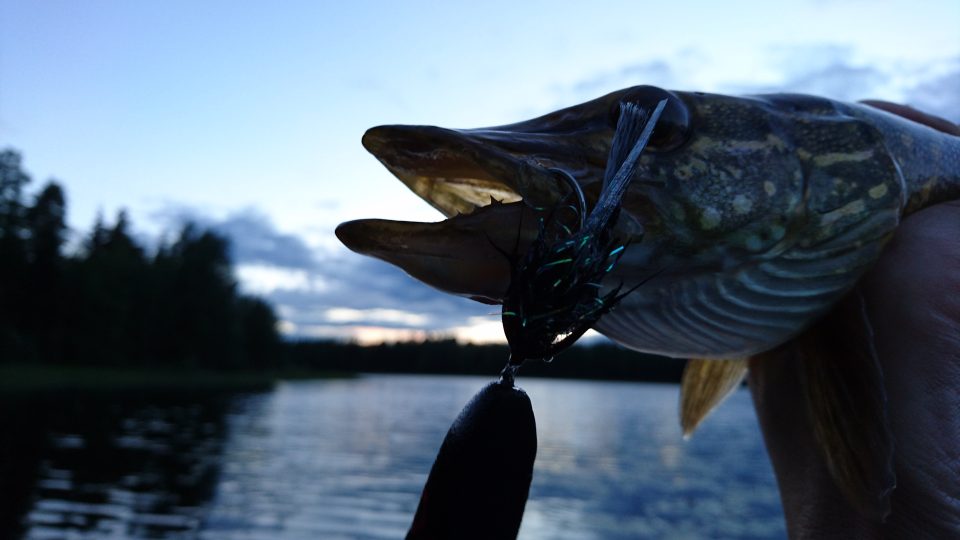 Detta är en text jag kopierat från min tidigare blogg på A Swede Fishing. Några av er har säkert läst den förut, men här kommer den ändå…
(Scroll down for Englilsh)
Lita aldrig på en död gädda!
Ända till så långt jag kan minnas tillbaka så har fisket funnits med. Både på pappas och mammas sida fanns människor som var mycket ute i skog och mark. Det plockades svamp och bär, det jagades och framför allt så fiskades det.
Ett av de tidigaste minnena jag har av fiske är när min pappa Bosse och fasters man Åke kom hemdragandes med en jättegädda tagen i sjön Örsjön i Skåne. Just den här dagen så var familjen samlad hemma hos farmor och farfar på middag. Jag var nog runt fyra år. Jag minns att jag hade frågat om jag fick följa med och fiska, men inte fick. Varför vet jag inte.
Jag har inte så starka minnen av just den dagen, men ett riktigt starkt minne är av en gädda. En gädda som ligger och ser farlig ut på en nyklippt och sommargrön gräsmatta. Gäddan är jättestor i mitt minne, och alla de sylvassa vita tänderna glänser i solen där den ligger med öppen käft. Jag minns just det där med tänderna väldigt starkt, och bilden av gäddkäften är fortfarande väldigt tydlig för mig. Nu var jag ju bara runt fyra år, och jag var dessutom rätt tanig som grabb, så i jämförelse så kanske gäddan inte var så speciellt stor egentligen. Men den var det för mig, just där och då.
Jag kommer ihåg att bilen körde upp för backen upp till huset, och hur pappa kom in och hämtade oss inne i huset för att vi skulle komma ut och titta på gäddan. Jag kommer också ihåg exakt vad han sa till mig om gäddor, och också vad som sedan hände. Pappa sa nämligen åt mig att man aldrig ska lita på en gädda! Inte ens en död gädda!
Anledningen till att pappa sa just så var att jag hade sträckt mig fram för att känna på de glänsande och spetsiga tänderna. Ja trots att, och kanske just för att, jag tyckte att tänderna såg farliga ut så ville jag känna på dem. Pappa flyttade lite på mig och gick fram till gäddan. Han skulle nu visa varför man aldrig ska lita på en död gädda, och hur det kunde gå om man gjorde det! Han tog en pinne och petade den en bit in i munnen på gäddan. Ingenting hände. Han petade lite till och förklarade samtidigt att även fast en gädda är död så har den huggreflexer. Ingenting hände nu heller!
Just här är mina minnesbilder suddiga, så jag kan inte redogöra för varför eller hur det gick till när det hände sig som det gjorde. Det som hände var nämligen att min pappa plötsligt satt fast med handen i gäddans käft! Jag har för mig att det blev smått kalabalik och att farbror Åke fick hjälpa till att bända loss pappas hand ur den döda gäddans käft. Som sagt så minns jag inte varför det blev som det blev, men jag kan väl ana att pappa blivit lite less på gäddan som snuvat honom när han skulle ge mig en lektion i hur man ska hantera en död gädda.
Ja vad vet jag, jag var ju bara fyra år! Men hur nu än den där lektionen gick till, så lärde jag mig iallafall att aldrig lita på en död gädda! Och det bästa av allt, det var att jag från där och då blev ordentligt intresserad av fiske! Vilket jag fortfarande är…
English version…
Never trust a dead Pike
Fishing has been a part of my life as far back as i can remeber. Both on my fathers and mothers side i had relatives that enjoyed beeing in the outdoors. They were hunting, fishing and picking mushrooms and berries, but most of all they fished.
One of my earliest memories from fishing is when my father and my uncle came home from a fishing trip, and with them they had a huge Pike thas was caught in a lake nearby. This particualar day, a sunday, was one of our familys "get toghether day", so we were all gathered at my grand parents for dinner. I think i was about four years old. I remember that i had asked my father if i could come with them on the fishing trip, and i also remember that i was not allowed. Why i don´t know.
My memories from this day are´nt very strong in general, but one memory that is stuck on my cornea is the one of this Pike. A Pike that is layed out on a newly cut summer green lawn. Looking fearsome! In my memory the Pike is huge, and all of it´s big teeth are shining in the sun were it layes with the mouth wide open. Especially the teeth is a memory that is very strong to me! And the picture of it´s big mouth and full set of razor sharp looking teeth is still very vivid. As i was only a four years old boy, and a tiny one in addition, the Pike might not have been that big after all. But it was to me, right then and there!
I remember hearing the car driving up the hill to my grand parents house, and my dad coming to get us in the house. He wanted us to go out and look at the Pike. I also remember to the word what he said to me about Pikes, and also what took place right after he said it. Namely what he said to me was that i should never trust a Pike! Not even a dead one!
The reason why my dad said just that was that i had reached out to touch the shiny and pointy teeth. Yes despite that, and maybe just beacuse, i thought the teeth looked dangerous, i wanted to touch them. Dad moved me aside and walked up to the dead Pike. He told me that he would show me why never to trust a dead Pike, and what could happen if you did. He took a stick and placed it inside the dead Pikes mouth. Nothing happened. He once again placed the stick in the Pikes mouth and at the same time he explained that even if a Pike is dead, it has reflexes. Again nothing happened!
Right about here my memories get a bit blurry, so it is a bit hard to tell exactly why and how things happened as they did. What happened though, was that my dad all of a sudden was stuck with his hand in the Pikes mouth! As i recall it, there was screaming and quite an uproar and that my uncle had to help pry loose my dad´s hand where it was stuck between houndred of sharp pike teeth. As said i do not know why things happened as they did. But i suppose my dad got a bit crossed with the Pike not playing along when he wanted to teach me a lesson in how to deal with a dead Pike, and therefore put his own hand in it´s mouth.
Well, what do i know! I was only four years old! Even how this so called lesson ended, i then and there learned to never trust a dead Pike! And best of all was, that i from right that day and that experience became interested in fishing! And i still am…
0